"Theaturtle was established in 1999 to create essential, ecstatic theatre that touches the earth and ignites the soul. Its name is derived from stories told in both Indigenous and Jewish traditions that the world sits on the back of a turtle. We develop locally-based work with intention and passion, then glide into national and international waters to share our physically and musically robust theatre."
Vision & Mission
We envision a theatrical haven where timeless narratives converge like the elegant journey of a turtle through the currents of storytelling.
Our mission is to employ meticulous project development, innovative production, and dynamic touring, to propel  ecstatic theatre experiences that transcend borders.
Our History
Theaturtle began in 1999 when Adam Nashman's The Song, featuring Alon Nashman and Deborah Hay, was hailed as "…a tribute to the possibilities of the human body and human imagination" (National Post). In 2000 at the Toronto Fringe and later with Theatre Direct, Wajdi Mouawad's Alphonse was called "A One-Man Wonder" (Toronto Star) and "A Runaway Theatrical Success" (Globe and Mail). Alphonse has toured to the Edinburgh Fringe and South Africa's National Arts Festival and most recently to parks in Ontario featuring Gabe Maharjan or Kaleb Alexander. In 2005, Alon Nashman and Mark Cassidy of Threshold Theatre developed Kafka and Son, based on a letter Franz Kafka wrote to his father. The play toured with acclaim across Canada in 2007, winning Best In Fest at many Fringe Festivals. Kafka and Son has travelled internationally to the National Theatre of Iceland, thrice to the Edinburgh Fringe and throughout Europe, garnering awards for Outstanding Performance at the Prague Fringe and Germany's Thespis Festival. In 2017 Kafka and Son was showcased at New York's Soho Playhouse. In 2006, The Snow Queen, scored by Canadian composer Patrick Cardy for string quartet and storyteller, was realized as a theatre/music/video production at The Banff Centre for Arts and Creativity. The Snow Queen has toured to theatre and music venues across Canada and was nominated for Dora Awards for Outstanding Production and Performance. In 2009, Alon directed a workshop production of Noah's Great Rainbow by Sam Chaiton featuring music by Mighty Popo, Waleed Abdulhamid and David Buchbinder, which investigates the shared experience of survivors of the Holocaust and the Rwandan Genocide. Theaturtle tours the celebrated 2012 Stratford Festival production of Hirsch, created by Alon Nashman and Paul Thompson, about legendary Canadian director John Hirsch, which was praised by the New York Times and Dame Maggie Smith. Hirsch was presented by the Royal Manitoba Theatre Centre, Uno Festival, in Edinburgh, and at festivals in Makhanda and Johannesburg. Recent projects include Charlotte: A Tri-Coloured Play with Music, an international collaboration based on the remarkable life and artwork of Charlotte Salomon, which premiered in 2017 at Toronto's Luminato Festival and travelled to festivals in Taipei City, Tel Aviv, Kyiv, and to the Czech National Opera.
Awards & Nominations
4 Dora Award Nominations
6 Fringe Best in Fest Awards
2021 Public History Award
Heritage Toronto
2019 Critics' Choice Award
Orlando Fringe Winter Fest
2017 Fringe Encore Series Selection
Soho Playhouse, New York
2015 Arena Stage Award
National Arts Festival, South Africa
2014 Jury Award
Thespis Festival, Germany
2013 Outstanding Performance
Prague Fringe
2008 Outstanding Touring Production, Brickenden Award
London, Canada
Alon Nashman | Artistic Director
Alon Nashman is a performer, director, creator, and producer of theatre. Selected credits include: Scorched* (Dora Nomination: Performance), Remnants* (Tarragon Theatre), Hamlet, All's Well That Ends Well, Botticelli in the Fire/Sunday in Sodom*, Picasso at the Lapin Agile (Dora Nomination: Performance), THIS (Toronto Theatre Critics Award, Dora Nomination: Performance) (Canadian Stage), Hedda Gabler (Volcano / Buddies in Bad Times), The Last Days of Judas Iscariot* (Birdland Theatre), If Jesus Met Nanabush (De-ba-jeh-mu-jig Theatre), The Barber of Seville (Persephone Theatre), Easy Lenny Lazmon and the Great Western Ascension* (Go Chicken Go), Reading Hebron, A Short History of Night (Factory Theatre), HIRSCH, and Birds of a Kind (Stratford Festival). Alon was Narrator/Storyteller in Tales of Two Cities with Tafelmusik Baroque Orchestra. Under the banner of Theaturtle, Alon has been involved with the creation, production and touring of numerous theatre pieces including Adam Nashman's The Song, Wajdi Mouawad's Alphonse (Dora and Brickenden Awards); Kafka and Son, developed with Mark Cassidy of Threshold Theatre, The Snow Queen (Dora Nominations for Production and Performance), HIRSCH created with Paul Thompson for Stratford Festival of Canada, and Charlotte: A Tri-coloured Play with Music, developed with UK-based scenographer/director Pamela Howard and Czech composer Aleš Březina. (*Dora Award: Production)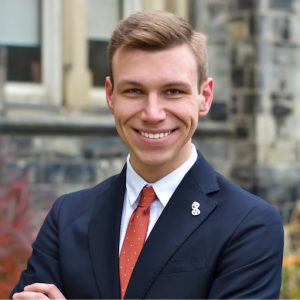 Valeriy Kostyuk | Associate Producer
Valeriy Kostyuk is a Toronto based producer. For Starvox Entertainment, Valeriy manages exciting projects such as Champions of Magic, John Ross Bowie's Four Chords and a Gun, and WOW Vegas Spectacular in Dubai. With Lighthouse Immersive Valeriy has been part of the Immersive Van Gogh team, the first immersive exhibit which safely opened in Toronto in July 2020. Valeriy manages the Illusionarium Exhibit which opened in Toronto in July 2021. For Theaturtle, Valeriy has worked on projects such as the international tour of CHARLOTTE: A Tri-Coloured Play with Music, and the 2020 COVID-19 safe tour of Toronto City Parks of Wajdi Mouawad's Alphonse. Valeriy independently produces multidisciplinary arts projects abroad. Previously Valeriy collaborated with renowned eastern European companies such as Maski-Show Theatre and Kobzov Circus. Valeriy holds a BFA in Theatre from York University, with a focus on production and design.
Alanis King | board of directors
Alanis King is a playwright and director originally from the Wikwemikong Unceded Indian Reserve. King was the first First Nations woman to graduate from the National Theatre School of Canada, and began working in theatre in 1986. She is the past Artistic Director of De-ba-jeh-mu-jig Theatre, the Three Fires Music Festival, Native Earth Performing Arts in Toronto, and Saskatchewan Native Theatre. King was the past Festival Director for the Aboriginal Voices Festival in Toronto, assisting the content development and media project Buffalo Tracks for Aboriginal People's Television Network. Alanis King completed an eight-week intensive program at New York Film Academy and at George Brown College in Toronto where she wrote her first feature length screenplay. The film then went on to be screened at The Aboriginal Voices Festival and the ImagiNative Media Arts Festival. Her plays include The Daphne Odjig Art Show, Odeh Gamig Kwewak (aka. The Heart Dwellers), If Jesus Met Nanabush, The Tommy Prince Story, and The Manatoulin Incident.
Wole Oguntokun | board of directors
Wole Oguntokun is a playwright and artistic director of the international performing arts company Renegade Theatre, and the Canada-based Theatre Planet Studios Ltd. He was a Global Fellow of the International Society for the Performing Arts (ISPA) in 2015, 2016 and 2018. He has presented and directed plays at the Cross Currents Festival in Washington DC, the Edinburgh Festival Fringe, The Globe Theatre in London, the Ubumuntu Arts Festival in Kigali, Rwanda, the Lagos Black Heritage Festival and numerous festivals in Nigeria. He was moderator at the award of the Europe Theatre Special Prize to the Nobel Laureate, Wole Soyinka, in Rome in December 2017, Artistic Consultant to the Directors' Projects at the Shaw Theatre Festival, Ontario, Canada in 2018 and was a resident International Guest Artiste for at the Svalegangen Theatre in Arhus, Denmark in the same year. Wole is recipient of "Best Dramatic Writing of the Year" Young-Howze award in 2021 for "The Emancipation of Yankee Oluwale."
Mark S. Anshan | board of directors
Mark is a lawyer and a former Canadian diplomat, serving on several non-profit boards. He provides legal, business, strategic and organisational advice to not-for-profits and charities. Mark is a Canadian lawyer, called to the Ontario bar in 1984. Prior to becoming a lawyer, he served in the Canadian Foreign Service at the United Nations and the Canadian Embassy in Stockholm, Sweden. As a lawyer and executive, Mark has been involved in the management and reorganisation of several companies and not-for-profit organisations, having served as a senior executive and chair and board member. He has extensive experience in management, strategic planning, governance and organising businesses. He serves on several boards in the Canadian Jewish Community as well as boards in the General community. Mark is a past President of Holy Blossom Temple in Toronto, and past Chair of ARZA Canada and ARZENU.